Quick Links:
You can click the links below to navigate to see each of the awards winners.
Meat Businesswoman of the year Award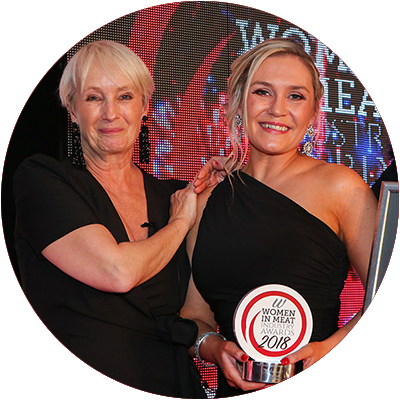 Lisa Hand
Head of Supply Chain
Dunbia
Pictured: Lesley Waters (left) presents the winner of the Meat Businesswoman of the Year Award, Lisa Hand of Dunbia with her trophy at the Women in Meat Industry Awards.
"I'm absolutely thrilled. There were so many really worthy people nominated and for me to have even been put forward in the first place was an absolute honour. I couldn't believe it when I won and to know that so many people got behind me and supported me really made me feel over the moon. I'm truly overwhelmed.
Historically the meat industry has been very much a male dominated sector. It is great to see so many women rising in the ranks and becoming senior members of the business, and really leading the charge as well as enticing younger women to join the meat industry."
Meat Businesswoman Award – Retailing
Lynsey Coughlan
Director
The Ginger Pig
After years of experience in the global meat industry, working for the likes of Victor Churchill in Australia, Lynsey found herself knocking on the door of The Ginger Pig when she moved to London. Lynsey is described by colleagues as 'the most positive and passionate person in the room'. Having started as a Butcher's Shop Manager, she quickly rose to become one of the company directors, a role which has seen her project manage significant changes to the business, including the launch of a number of new shops. She is now Director of a business that has eight shops in the London area, a growing wholesale client base and nationwide delivery service.
Meat Businesswoman Award – Foodservice
Penny Tomlinson
Managing Director
Fairfax Meadow
Penny's level head, excellent communication, excellent motivational skills and her strategic approach have been key to Fairfax Meadow's continued success. Her team describe her as an outstanding example of leadership, being both professional yet personable, taking the core ethos of the meat trade and using this to drive real value through growth. Under her stewardship, the business has successfully grown, requiring two new sites this year. As one of only a few female MDs in the meat industry, Penny also navigated the company through Food Standards Agency requirements earlier this year and has ensured Fairfax Meadow maintains its strong position in the sector.
Meat Businesswoman Award – Manufacturing/Processing
Lisa Hand
Head of Supply Chain
Dunbia
Lisa is Dunbia's top performing group manager. In 2017 she delivered major cost savings, launched three first to market products, won four packaging awards, one patent application and delivered her part of a £multi-million supply chain restructure with no negative impact on customer service. Lisa's colleagues say she has an incredible work ethic and shows calm, effective leadership under pressure.
Meat Businesswoman Award – Craft Butchery
Sue Winders
Butchery Manager
Makro Liverpool
After joining Makro Liverpool as Butchery Manager, Sue quickly established a reputation for her fantastic butchery skills and experience, and also for her attitude and approach. Sue has developed and honed her craft over many years working for an independent butcher before joining Makro, however her colleagues say what is particularly impressive is Sue's focus, drive and passion for coaching, training and developing others in order to keep the craft alive. Due to this passion, Sue was selected to complete The Institute of Meat Master Butcher accreditation and is in fact the only female to have done so.
Meat Businesswoman Award – Trade Body
Liz Murphy
Chief Executive Officer
International Meat Trade Association (IMTA)
Described by colleagues as a stalwart of the industry, Liz worked as an economist with the Meat and Livestock Commission (MLC) for 15 years where she specialised in European agriculture policy. Following 17 years working as a private consultant, Liz was appointed CEO of IMTA in 2006 where she continues her work as a specialist in EU meat import regimes and other issues affecting the international trade in meat. She has skilfully established long-term links with British Government officials and EU Commission officials both independently and via the European Livestock and Meat Trade Association (UECBV), continuously an d tenaciously ensuring the industry's needs are heard.
Meat Businesswoman Award – Wholesaling
Lucianne Allen
Sales and Marketing Director
Aubrey Allen
Lucianne leads by example; talking and meeting with customers and building strong partnerships with chefs. She is constantly seeking to review and improve the business, Lucianne leads from the front and involves everyone in order to maximise the potential of all areas of the company. She works closely with Russell Allen, her brother, who is the company MD, providing an important supporting role. Passionate about education, Lucianne has played a key role in transforming industry training as previous chair of the Trailblazer Apprenticeship Group. She is regularly invited to attend and speak at events as an industry ambassador and was a keynote speaker at the Meatup exhibition in 2017, where her presentation was widely regarded as outstanding.
Sophie Cave
Operational Finance Lead
Tulip Ltd
Sophie successfully completed the Tulip Graduate Scheme and was fundamental to a yield improvement plan in Tulip Fresh, changing product flow and culture. Now part of Operational Finance, she has so far driven cost savings of £2 million using a department managers' engagement programme. The company says this would not have happened without Sophie's 'infectious way of working'. She studied for her first two CIMA exams in her spare time – and passed. Amy Witham, Finance Director, Fresh, said: "I am blessed she is in my team."
A SPECIAL THANKS TO OUR 2019 PARTNERS: